Breaking the Barriers to Desire: Polyamory, Polyfidelity and Non-monogamy -- new approaches to multiple relationships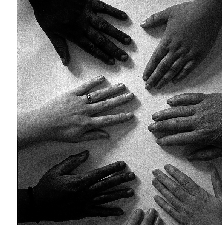 Cover Design: Intersecting hands (jpb photography)
Quotes:
``A fascinating and provocative look at a neglected aspect of sexuality" Sue George, Journalist and author of Women and Bisexuality

``Can we really have what we long for?! These amazing stories hint at how to build a more open, loving community. Best of all they give me hope" Loraine Hutchins, Editor of Bi Any Other Name and leading figure in the US Poly and Bi movements.
Contents
Polyamory means ``more loves than one": this book covers a variety of forms of polyamory or ``responsible non-monogamy", such as triads, polyfidelity, open relationships and many others
The writers are people with experience in such relationships, and the pressures external and internal which confront those attempting to expand the definition of relationships in this way
Both personal experience and advice and in-depth theoretical analysis are provided, together with articles on the history of non-monogamy and its position in feminist and political theories
The book is 144 pages long and features:
Personal accounts of how responsible non-monogamy works in practice
Non-monogamy in history
Theoretical analysis of non-monogamy in religion, feminism and political theory
A glossary, bibliography and list of resources are provided.

See the Preface and sample articles by Bernadette Lynn Bosky and Carol Queen (this last is to appear in a next edition if there is to be one). ISBN: 0 907123 36 8

Publication Date: 1.6.95
Published By
Five Leaves Publications, PO Box 81, Nottingham, NG5 4ER, UK
Available from Loving More: barry@techmesa.com
Editors
Kevin Lano and Claire Parry
Features Articles By
Emma Donoghue, Alison Rowan, Maria Pallotta-Chiarolli, Bernadette Bosky, Claire Parry, Kevin Lano, Jennifer Rycenga, and many others.
Ordering Information
UK
Via Amazon.com or Loving More.
USA
Distributor: AK Press, PO Box 40682, San Francisco, California, 94140-0682, USA.
Related web pages
bi.org worldwide resources for bisexuals.